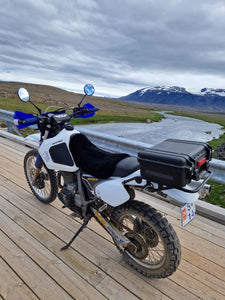 Sheepskin Buttpads
Keep your buttbones from burning! Our Sheepskin Buttpads will keep you cool in the summer and warm in cold weather! They are easy on - easy off, there are no moving parts, they have a universal fit, are not affected by rain, and you can use them to wipe bugs off your windshield or as a pillow for camping. Even more, they are affordable. 
Sheared Buttpads are more efficient for cooling and comfort because they pocket more air. They have a more finished look and take up less space when stowed (1" fleece)
Long Hair Buttpads are long and shaggy (1.5" to 3" loft). They are thicker and may boost you up in the seat.
Natural Buttpads are available in sheared and long hair varieties. They cost more than the dyed varieties and are not always available because they are only tanned in small batches. Each pelt is unique, ranging from light cream to spots to browns and grays.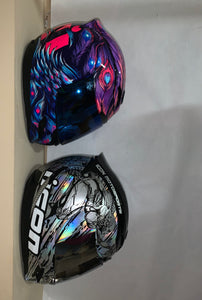 Helmet Hitch
Previously known as Cord-On-Blue, this was originally slated to hang extension cords, until we realized it's perfect for hanging helmets too! They are the best thing to happen to helmets since quick releases.
The back rim of your helmet fits perfectly between the Helmet Hitch's semi-circular lip and the wall. It's the only hanger we've found that holds a helmet FLUSH against the wall instead of flopping around. Other helmet hangers are expensive and just plain weird. This one's simple and cheap. Case closed. Works best on full face or 3/4 helmets.
Made in the USA. Avaliabe in black.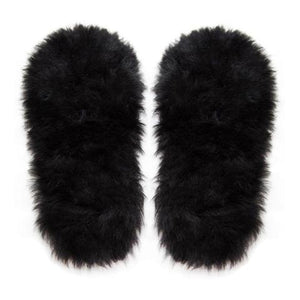 Sheepskin Insoles
100% sheared sheepskin! Just remove your existing insoles in your shoes or boots and put them in. They may feel tight at first, but they will pack down. These will make your feet warm and happy! The XS will fit children and women's sizes 3-5. These come in black, charcoal, cream, or natural. The black variant may stain bare feet if wet.

Want To Be Featured On Our Website?
Submit your Buttpad photos to us via email or text for a chance to be featured on our front page!